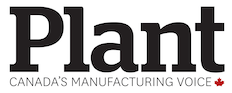 EBAM system delivers production boost
Large parts, quick turnaround.
April 18, 2019 by PLANT STAFF
---
Burloak Technologies is taking delivery of an EBAM 110 system from Sciaky Inc. in July 2019 that will allow the additive manufacturing specialist in Dundas, Ont. to produce large-scale titanium structural parts in days.
"Using traditional subtractive processes, such as forging and machining, the production of titanium parts of this size could take one year while generating a significant amount of waste," said Peter Adams, co-founder and president of Burloak Technologies, a division of Samuel, Son and Co. Ltd.
Sciaky's metal 3D printing system produces parts ranging from 8 in. (203 mm) to 19 ft. (5.79 m) in length. Electron beam additive manufacturing is also the fastest deposition process in the metal additive manufacturing market, with gross rates ranging from 7 to 25 lb. (3.18 to 11.34 kg) of metal per hour.
Burloak Technologies produces parts for a range of industries including space, aerospace, defense, energy, medical, automotive and transportation.
Sciaky Inc., a Chicago-based subsidiary of Phillips Service Industries Inc., makes metal additive manufacturing systems.
This article appeared in the November-December 2018 print issue of PLANT.