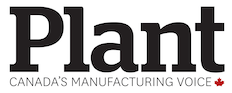 The Advanced Design and Manufacturing Expo returned on November 9 and 10 at the Palais des Congrès de Montréal. Like the saying goes, "if you build it, they will come", and that was the case at the ADM expo. In action were robotics demonstrating work in packaging, printing, and conveying.
The show spanned across one floor featuring five shows in advanced manufacturing areas — Design and Manufacturing, Automation Technology Expo, PACKEX, EXPOPLAST, and Powder and Bulk Solids.
The educational sessions were well attended and represented various fields in the industry in English and French. The first day wrapped up with a booth crawl and welcome reception including raffles, drinks and hors d'oeuvres.
Education topics varied in content, including flow properties – the path to confident bulk material handling system design, augmented reality for packaging operations, AI in manufacturing, plastics circularity and robotics and food.
"Robotics are not new to food manufacturing, but they are being used more and more often," reads the ADM session summary. "From upgrades like adding robotic arms that form and pack cartons on a food packaging line to new production facilities that built to be fully roboticized to optimize efficiency and quality, there are as many ways to incorporate robots into food production as there are types of food production."
The keynote session discussed the transformation imperative for Canadian manufacturing, led by moderator Richard Bolton, president at Centricity360 and speaker Stewart Cramer, chief manufacturing officer at NGen. Cramer spoke on the opportunities for Canada's manufactures to become global leaders in increasing revenues and exports through Industry 4.0 and the digital revolution.
Various product showcases took place including Boss Process showing compression couplings with an advanced eyelet design and an installation reduction of 30 per cent. Next was a showcase by Ingeniu, who discussed engineering processes improvement.
A demonstration of dilute, mixed and dense phase mode of conveying in see-trough pneumatic conveyor, was led by moderator Jim Beretta, president, Customer Attraction along with panelists Colin Barbeau, Bulk Materials Handling Specialist, Hatch and Julien Mathieu Morel, Bulk Materials Handling Lead – East Canada, Hatch.
The industry-wide event explored the trends and technologies shaping the future of advanced design and manufacturing across automation, robotics, energy efficiency, packaging, plastics and processing.
Annex Business Media held a presence at its booth, representing its various brands including MRO, Plant, Food in Canada, Manufacturing Automation, and Design Engineering.